Sale

Zoom the image with mouse
Protected by Sign Fuck Around and Find Out Home Security
customers are viewing this product
Yard Sign keep your home protected.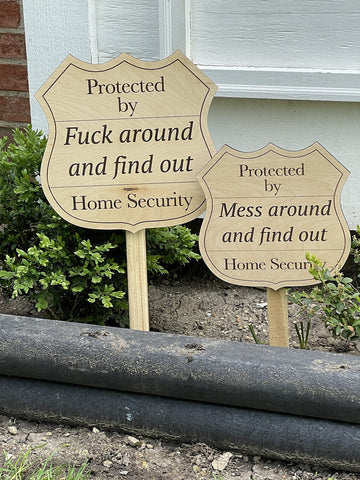 Sign options are 10" x 10" with 18" Stake or 12"x12" with 24" Stake comes ready to be hung along with a Pine Yard Stake. The yard stake is NOT attached, you can attach it by nailing it to the back of the sign or using heavy duty wood glue. The sign is laser engraved and cut using 1/4" Maple or Birch Plywood, wood depends on sourcing availability. Wood grains will vary. The sign has an initial coat of Waterbased Varathane Spar Urethane for weather protection. Keep out of full sun exposure, shade is best. It is recommend you re-coat every 3-6 months for longevity. "Image displays size difference in product"
Please Note: Yard Stakes are not attached to the sign, you are purchasing the engraved sign. A yard stake is included as a free add on for you to attach to the sign.