Sale

Zoom the image with mouse
customers are viewing this product
About SHEREM
SHEREM is a business that specializes in garden decoration hummingbird feeders. We strive to provide the best products for your garden and the best service for our customers. Our products are made from all natural, eco-friendly materials and are designed to attract hummingbirds. Our main goal is to make your home a beautiful place and to help you give back to nature.
We want to create a great place where people can forget their worries, spend time with their family and friends, and feel the joy of living.
This hand saw FEATURING A WOODCUT CUTTING THE TOP OF THE TREE makes a great, unique gift for a friend or yourself! The perfect metal gift for the arborist in your life!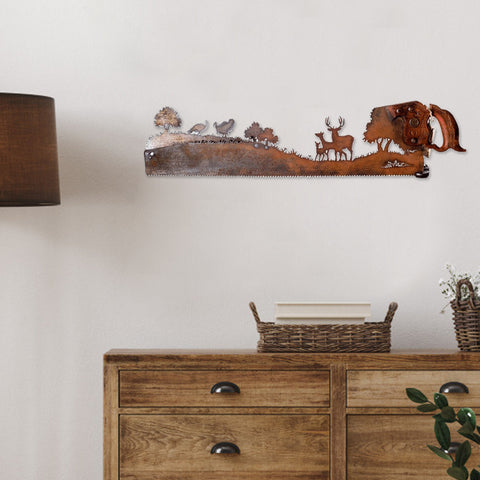 Enjoy the rustic look and earthy tones of the old vintage metal in the blade. Each pen made of wood is cleaned and oiled (when necessary), which gives the chicken a wonderful vintage atmosphere.
The average length of hand saws is 30 cm.
They can be hung with the help of two nails - one at the end of the handle, and the other for holes that I have placed at the end of the saw blade. Vertical saws can be hung using a hook welded to the back of the saws.
FOR MY WORK:
I really enjoy the process of going deeper into the art of metal and learning new techniques. I work with metal, wood, glass, as well as with paint and even with carving on a pencil slate! I live, work and do this through the whole time.
Features:
It is made of high quality material, strong and durable.
Fine workmanship production, Rural Type.
Average length-30 cm.
Easy to hang. You can hang them on two nails
The best decoration for your home.
Description:
Material: Metal
Size: 30cm long
NOTE:
Actual color may be slightly different from the pictures due to different monitors and light effect
Please allow 1-3cm deviation due to manual measurement