Sale

Zoom the image with mouse
MILD - SPORT Ankle Brace Compression Sleeve(1 Pair)
customers are viewing this product
PAIN HAPPENS...
Especially in our joints, and especially as we age or injure ourselves. Whether through heavy activity or everyday tasks, it's often our ankle joints that begin to suffer and ache. such as plantar fasciitis pain, swelling, sprained ankle pain, achilles tendonitis, arch pain, heel pain, or heel spurs.

If you do, you need compression foot sleeves, plantar fasciitis socks or ankle compression sleeves.
We have taken the time to develop a specialized fabric blend with 4-way stretch capability, offering all-around superior protection and support above and beyond what you've experienced before! The breathable fabric, absorbing sweat quickly and keeps your feet dry and odor-free, allowing you hours of continuous use!
How to Measure Your Best Fit Compression Foot Socks Size?

THREE MEASUREMENTS :1.Shoe size, 2. Arch circumference 3. Ankle circumference. This helps in choosing the correct sleeve size rather than shoe size alone.
Get Back In Action Without The Pain
Comfort and Support In A Thin Design: Sports Activities or Everyday Task our 4 way stretch ergonomically designed sleeve allows for full mobility with maximum compression throughout to Improve Blood Circulation and Reduce Inflammation. 80% Nylon /20% Spandex,No Neoprene,No latex
Consistent Pain Relief: Sprains, fractures,  bunion,bursitis,arthritis, swelling, tendonitis, Plantar Fasciitis and other foot pains to just fatigued swollen feet. Or just wear for injury prevention as an ankle stabilizer. Moisture Wicking Soft Fabric COMPRESSION SOCKS 20 - 30mmHG. 

Great Relief From Planter Fasciitis: the sleeve provides compression on the plantar fasciitis ligament to minimize the inflamed heel pain and throbbing allowing to stand and walk more comfortably.
Don't Let Injury Stop You or When You Can't Stop:  when you need to just keep on going and you can't have foot pain get in the way. Use these sleeves either over or under your socks giving you the extra protection that you require to get you through your day or night with less pain.Stay Comfortable in the Game All Day and Night. Baseball, Crossfit, Running, Basketball, Soccer, Walking, Hiking, Tennis, Volleyball, Golf, Kickboxing, Gymnastics, Exercise Workout, Martial Arts, Dance, Cycling or Any Athletic Fitness Sport.
Versatile And Comfortable: can be worn with just the sleeve in shoes, sandals, flip flops, shoes, and with insoles if needed. But it is thin enough to be worn with socks. Will keep your feet feeling great.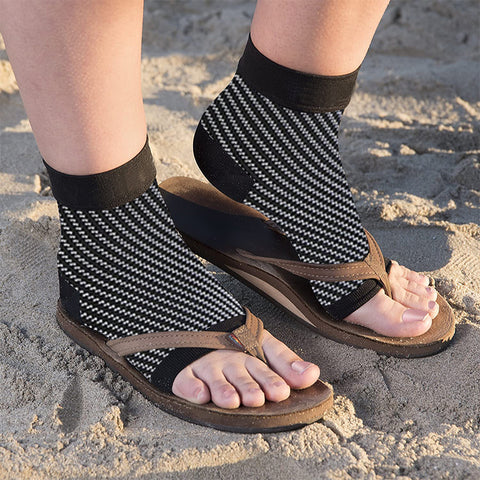 Breathable And Moisture Wicking Fabric: your feet will stay dry during the toughest workouts. Our unique manufacturing process allows a slim design that is also durable and lightweight.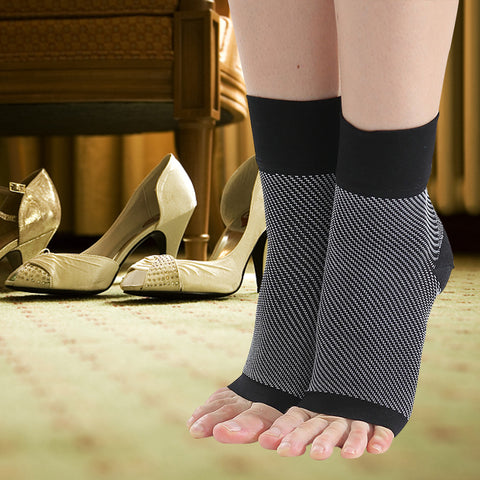 Premium Quality Comfort: a wide selection of sizes to help provide the right compression and fit. Choose from 2 distinct colors to make your feet look good while enjoying your favorite activity. Fits Men, Ladies Youth sizes. 
Wash Tips:
1. We recommend Hand wash ONLY and let them naturally air dry.
2. In order to maintain the elastic, please far away from the dryer.