Sale

Zoom the image with mouse
2 In1 LED USB Solar Power Mosquito Killer Lamp
customers are viewing this product
Bug Repellent Lamp That Wipes Out Biting Mosquitoes & Pesky Bugs, For Good!
The powerful & portable - rechargeable lamp is effective in zapping mosquitoes & pests - keeping over 375 sq.feet space bug-free!
It is a 100% safe & solar-powered bug repellent lamp that lets you enjoy the indoors & outdoors completely bug & mosquito free! Not only kills bugs but also works as a flashlight & camping light keeping any space you want well-lit for up to 20 hours!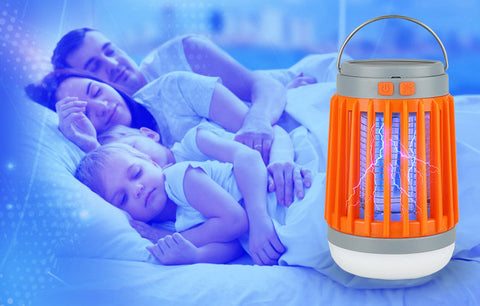 100% Safe - No chemicals, no UV light - making it safe to use even around kids & pets.

Powerful - 1000V high voltage zap with an effective bug killing range of 375 sq. feet.

Portable - Lightweight & waterproof, you can carry it with you wherever you go.

3-in-1 - Works as a bug zapper, walking flashlight & an all weather camping light.

LED lamp

LED flashlight

Mosquito repellent (UV light source suction type)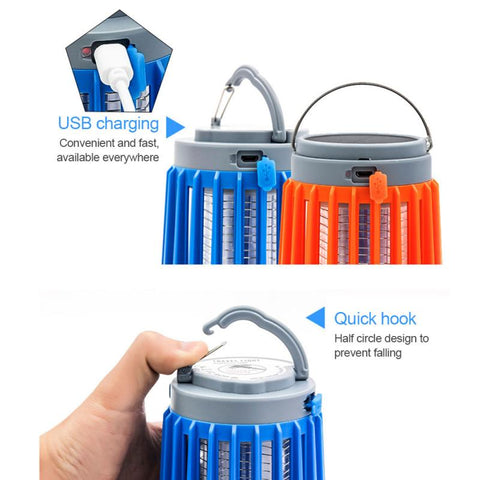 Five modes, lumen and lighting time:
Flashlight strong light mode - 320lm-9h

Flashlight light mode - 300lm-10h

Flashlight flashing mode - 320lm-8h

Led mode - 100lm-16h

Mosquito repellent incense mode - purple-12h
The Easiest Way To Zap Mosquitoes & Pesky Bugs
The Mosquito Killer Lamp is like having your very own personal insect exterminator. With a simple plug in to power on, the solar-powered light attracts the mosquitoes and flies to the top of the device. In a split second, those bothersome bugs are zapped and gone.
When you use Mosquito Killer Lamp, you can easily "turn off" your pain and drastically improve your quality of life.
Enjoy The Outdoors: With up to 24 hrs of long-lasting charge, bask in the freshness of the outdoors free of filthy flies

Improve Your Sleep: Gone are the days of getting bit in the bedroom. Place it by your bedside and delight in an uninterrupted sleep.

Relief From Stress: Trying to kill those fussy flies and insects can feel overwhelming. The Fuze Bug alleviates all stressors of a bug-filled environment.

100% Safe & Natural: Free of toxins and chemicals, the Mosquito Killer Lamp is 100% UV radiation-free.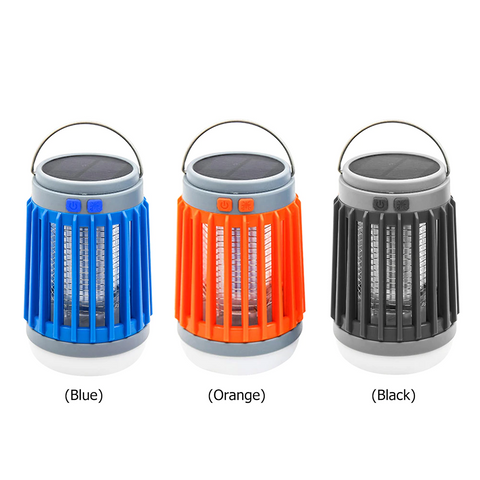 With Mosquito Killer Lamp you are sure to enjoy bug-free living, no matter whether it is in your house or office or in the middle of the jungle while you camp!
Led Light & Solar-Powered Glow
The ultra-bright LED light allows you to adjust the brightness from a dim setting to a sun-filled illumination. Turn any dark room into a radiant one all from this 7 oz. device.
Rechargeable

Included with every purchase is a micro USB charger that enables you to charge it any and everywhere you go. One charge lasts you enough for up to 24 hours so you can spend an entire day clear of mosquitos and waspy gnats.
Weatherproof

The Mosquito Killer Lamp can sustain extreme weather conditions from rain, snow and intense heat. Regardless of the temperature, no bug will go unnoticed and uncaptured.
Material:
ABS
Color temperature:
daytime white
Waterproof grade:
IP 67
Capacity:
2200mAh
Import:
USB 5V 1 A
Rated voltage:
5V
Rated power:
10W
Lantern / flashlight power:
3W
Mosquito :
1.2W
Grid voltage:
600V
Flashlight range:
300m
2in1 charging:
solar charging / USB charging
Package Included:

1. main body *1

2. USB charging cable * 1

3. instruction manual*1
Be careful:

1. do not look at the light in the light directly, which is the cause of eye damage and visual impairment.

2. Please wipe the main body surface with a soft cloth.

3. Please keep away from fireworks.

4. Please fully charge and keep it when it is not used for a long time.

5. Improper use may cause failure or accident.

6. Never disassemble, repair or transform. Otherwise, it may cause fire.

7. It is forbidden to overheat and put into the fire.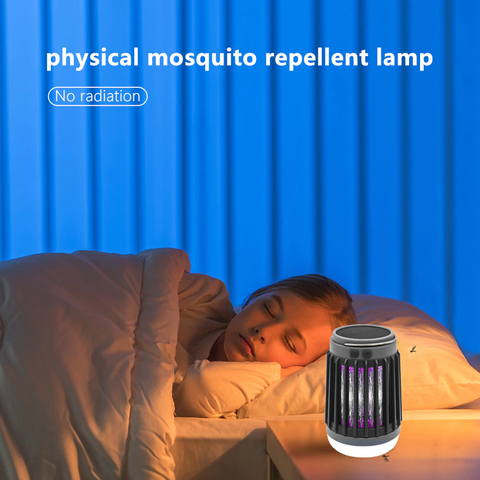 Get Rid of Biting & Pesky-Bugs Order Today & Get 50% Off Your First Order!